In this video lesson, we are looking at the lead guitar section of the RGT Preliminary Performance Award exam.
The difference between Performance Awards and Playing Grades is that you are only assessed on your performance for these awards.
There are no chords, scales, improvisation or theory tests, and you can pre-prepare everything you play for the performance exam.
You can also submit either a video or audio performance for any level of Performance Awards, or you can attend a live exam session if you prefer.
For more information on these exams, please visit the RGT Electric Guitar Performance Award Information Page.
Soloing Pointers
To help you get started with soloing over these chords with the C major scale, see the fingering below, here are a few ideas that you can try out in order to begin experimenting with improvisation in the practice room.
Play notes in order from scale
Play notes randomly from the scale
Use different note lengths
Soloing on the guitar means creating your own melody lines on the spot, so feel free to be free with your ideas and experiment as you mix your technical knowledge, scales, with creativity, soloing, in your playing.
RGT Preliminary Performance Award Progression
Here is the chord progression that is used in the video lesson below. Try jamming on these chords with your teacher in order to practice soloing over a Preliminary level chord progression in your studies.
RGT Preliminary Performance Award Scale
Here is the C major scale fingering demonstrated in the video below, which can be used to solo over the above chord progression.
RGT Preliminary Performance Award Licks
As well, there are four demo licks in the example solo from the video below that you can study in your playing and use as inspiration when first exploring soloing concepts in your playing.
RGT Preliminary Performance Award Video Lesson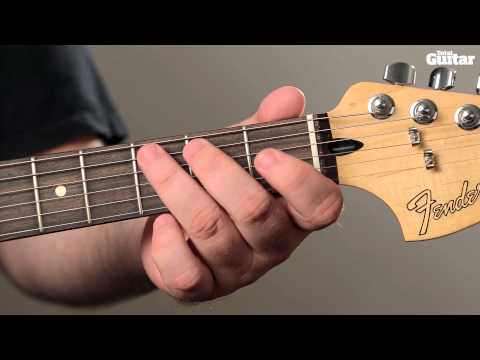 RGT Preliminary Performance Award Book
To find out more about the Rhythm Playing at the Preliminary Grade level, and the RGT Preliminary Grade Performance Award, please download the RGT Performance Award Booklet.
Not a Registered RGT Teacher yet? Visit the Join the RGT Page to find out the great benefits that membership has to offer