In the first lesson in this series, we looked at the introduction section of 'Country Mood' – one of the RGT's Grade Five Acoustic Guitar Exam unaccompanied pieces.
With, this lesson we'll cover the first ten bars of the main piece, which forms the core theme of the piece.
Click to read the first lesson in this series Country Mood Lesson Acoustic Grade 5 Exam.
'Country Mood' an arrangement of a typical traditional country, bluegrass-influenced  piece.
It's chordal based and designed to be played using a pick. It features simple open G, C and D major chords – but with their sound made more interesting by playing the bass notes and the treble strings of each chord separately.
Some short bass lead-in notes link the changes from one chord to another.
It's essential that you play the bass notes strongly as they provide a melodic line of their own.
Practise slowly at first while you're learning the piece, but once you've got your fingers around it feel free to play it as fast as you like – in turn bluegrass style
You can also click here to purchase the RGT Grade 5 Acoustic Guitar Exam Book, which contains the full score to 'Country Mood,' as well as all of the other musical requirements for this exam.
To view more articles in this series, please visit the "RGT Acoustic Guitar Video Lesson Archive."
RGT Country Mood Lesson 2 – 1st 10 Bars
Here is the tab and notation for the demonstrated example in the video below.
RGT Country Mood Lesson 2 – Video
Video presented by Chris Bird, Music Editor of Total Guitar Magazine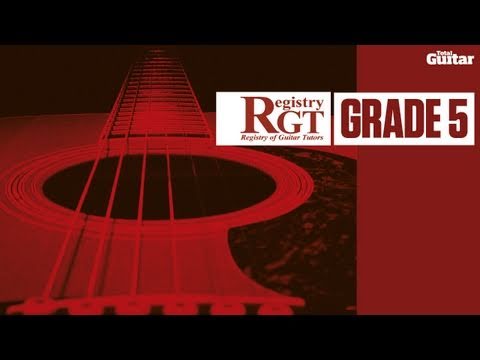 RGT Acoustic Guitar Grade 5 Books
To find out more about the 'Country Mood,' and the RGT Acoustic Guitar Grade 5 Exam, please download the RGT Acoustic Guitar Exam Information Booklet.
You can also check out the RGT Acoustic Guitar Grade 5 Book, which comes with a CD and contains notation and recordings of all the exam pieces, as well as diagrams for all of the chords and scales that the pieces are based on.
Not a Registered RGT Teacher yet? Visit the Join the RGT Page to find out the great benefits that membership has to offer.