Logos and Text Links
Welcome to the RGT@LCM logo resource page.
We encourage links to the official RGT@LCM website. You will find all the logos, hyperlinks and information you need here.
Tutors listed in the RGT@LCM tutor directory can have links to their personal or commercial website (subject to approval). However, a prominent link back to the official RGT@LCM website is required in order to take advantage of this free service.
Further help and advice can be obtained from the RGT@LCM webmaster via the Contact Form.
Allowed Use
'RGT@LCM' is an internationally-protected Registered Trademark, however guitar teachers granted 'full membership' of RGT@LCM are authorised to use one of the members' versions of the RGT@LCM logo below (that includes the words 'An RGT@LCM registered tutor') in their guitar teaching publicity; the standard RGT@LCM logo should not be used by teachers (other than on a website where the logo promotes RGT@LCM and is used as a direct hyperlink to the RGT@LCM website) and is reserved for use only by RGT@LCM itself. Members may not purport to represent, speak on behalf of or otherwise act as a representative of RGT@LCM without the express prior written permission of a senior member of RGT@LCM staff.
Please Note
As you may have noticed, the main RGT@LCM logo has recently changed following the acquisition by LCM.
These should now be used on your websites or publicity material in place of the old ones.
Registered Tutor Logo / website badge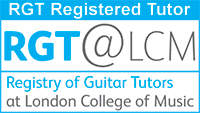 Official Logos



---
Instructions
To copy a logo, right-click on it and choose either "copy" or "save image as".
Save it to a folder on your hard drive.
Place the image in the desired location on your web page.
Use the relevant hyperlink text above.
You can copy the hyperlinked text in Internet Explorer by right-clicking it and choosing "copy shortcut".
Paste it into your web design programme at the relevant point.
Further help and advice can be obtained from the RGT@LCM webmaster at Take Note Publishing Ltd.