In the first Grade 5 RGT Acoustic Guitar lesson, we looked at part of the first section of 'Mourning Air' – one of the RGT's Grade Five unaccompanied acoustic guitar exam pieces.
This lesson will cover the second section of the piece, which you can see in the tab and video below.
Whereas the first section had a very sad melancholic mood, this section sounds much more celebratory and is almost dance-like in style.
This section is four bars in length, but is repeated three times – each time getting slightly faster, to make the music sound livelier and more exciting each time.
The marking 'Rall', towards the end of the third repeat, indicates that the tempo should start to slow down form that point onwards.
A descending double pull-off is used several times in this section, as a way of providing a sense of movement and fluency.
You should make sure these notes sound as clearly and loudly as normally fretted notes; keep both fretting fingers pressed down before you start to execute this slur – so that the lower note is ready in position.
Take a look at the video and tab below to see how this section should sound and be performed.
You can also click here to purchase the RGT Grade 5 Acoustic Guitar Exam Book, which contains the full score to 'Mourning Air,' as well as all of the other musical requirements for this exam.
To view more articles in this series, please visit the "RGT Acoustic Guitar Video Lesson Archive."
RGT Mourning Air Lesson 2 – Excerpt
Here is the first 6 bars of the second section to the piece 'Mourning Air,' which is covered in the video lesson below.
RGT Mourning Air Lesson 2 – Video
Video presented by Chris Bird, Music Editor of Total Guitar Magazine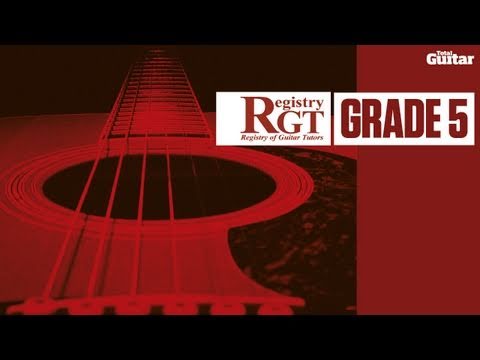 RGT Acoustic Guitar Grade 5 Books
To find out more about the 'Mourning Air,' and the RGT Acoustic Guitar Grade 5 Exam, please download the RGT Acoustic Guitar Exam Information Booklet.
You can also check out the RGT Acoustic Guitar Grade 5 Book, which comes with a CD and contains notation and recordings of all the exam pieces, as well as diagrams for all of the chords and scales that the pieces are based on.
Not a Registered RGT Teacher yet? Visit the Join the RGT Page to find out the great benefits that membership has to offer.