In today's installment of the RGT Guitar Tutor Interview Series, we are sitting down with Guitar Tutor James Martin of JM Guitar Tuition.
After having played over 2000 gigs in his career, James brings a plethora of experience to his private students, as he runs the JM Guitar Tuition Studio in Leicestershire.
A full-time guitar tutor since 2007, James also continues to develop his own skills on the instrument as he recently achieved his LLCM in Electric Guitar Performance, and is beginning to work towards his FLCM Diploma this year.
We recently caught up with James to talk about his own study and exam taking history, how he prepares his students to succeed on RGT Exams, and his best advice for any tutor looking to enroll students in the RGT exam system.
To learn more about James, his teaching and performing, check out the Guitar Tutor James Martin Homepage as well as the James Martin Facebook Page.
******
RGT: How did you become aware of the RGT, and why do you chose to encourage your students to take RGT guitar exams?
James Martin: When I first got into teaching, I was still feeling my way around the job and trying to put some level of form and structure into my lessons.
I then found out about grading systems and RGT when I did my Access to Music Diploma back in, well I won't say when, but it's been a while.
RGT Guitar Exams provide a nice progressive structure in which students can develop all facets of their technique, as well as build a solid understanding of the tools they need to progress further and reach their goals as musicians.
I prefer to see the exams as a means rather than an end in themselves though, as I don't like the idea of "teaching to the test."
RGT: What do you find is the biggest challenge when preparing a student for an upcoming RGT exam?
James Martin: Giving them confidence in themselves. The ability to not get hung up on nerves and to honestly and objectively appreciate their own strengths and weaknesses in a performance is crucial, not just to their exam results, but to their overall development.
That, and getting them to pay attention to learning the technical exercises properly when practicing at home.
RGT: Most students, if not all, deal with nervousness on some level either before or during their exams. How do you address this issue with your students in their lessons?
James Martin: There are one or two yoga breathing exercises and posture tricks that I go through with my students to help their overall mental attitude.
It's the theory of "cognitive dissonance." If you program yourself to believe you can doing something, you're far more likely to approach it with a positive and confident mindset and accomplish it. I've written a short piece about this subject on my blog.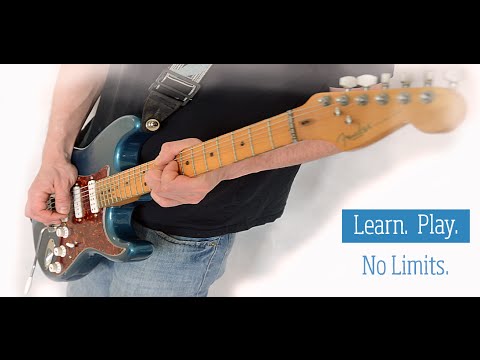 RGT: As someone that holds many qualifications in guitar and music, do you see yourself continuing your own study and exam taking, or are you focusing more on the teaching side of things these days?
James Martin: Absolutely. I've just sat, and am very happy to say, passed with Upper Level, the LLCM Electric Guitar Performance Diploma, and plan on taking my FLCM as soon as I've got the material together. I do believe that, in music especially, if you're going to teach, then you have to do.
It's important not to forget the sheer gut-wrenching terror that grips you when you're in front of the examiner.
So I think the two go hand in hand – if you're not stretching yourself, not improving, not learning, then you're going to lose the ability to learn and therefore lose the ability to help others to learn.
RGT: Besides teaching, you are also a performer. How do you balance these two sides of your career, and do you find that your teaching influences your playing and vice-versa?
James Martin: Again, this goes back to my philosophy of if you're going to teach, you have to do.
Live performance is the ultimate aspiration of most, not all, but most students who begin learning to play the guitar. And it is, let's not forget, enormous fun.
That's an important consideration. It's always important to keep hold of why we play in the first place, especially when music becomes your profession.
I think it's also important for your students to see that their teacher retains a fire, enthusiasm and love for performing, and music in general.
It's our job to inspire and set an example for the next generation of players.
RGT: If you had one piece of advice for other guitar teachers that are preparing students for RGT exams, what would it be?
James Martin: To prepare and inspire them so thoroughly that they don't go in with a feeling of "Oh, I hope I do ok."
That they strut in knowing that they are absolutely going to lay it down, grab the challenge by the scruff of the neck and show the examiners exactly how these pieces should be played.
As well, to make sure the student knows how the skills they acquire doing the exam can be applied in their everyday playing.
Not a Registered RGT Teacher yet? Visit the Join the RGT Page to find out the great benefits that membership has to offer.
Liked this article? Pass it along!