As part of the 2013 RGT Conference, which takes place in London on September 8th, 2013, performer and guitar educator Hugh Burns will be presenting a seminar titled 'Folk Music as a Way to Develop the Inner Ear.'
In this seminar, Hugh will demonstrate the styles and techniques of English folk guitar with excerpts from his new book 'English Folk Tunes For Guitar.'
About English Folk Tunes for Guitar
From the Publisher's website:
"The latest addition to the famous 'Schott World Music' series follows Scottish Folk Tunes for Guitar and features internationally recognised guitarist and composer Hugh Burns as he presents some of his favourite traditional songs.
The arrangements vary in difficulty from about grade 3 to performance standard. The music can be performed on solo guitar or in a 'session' situation with other guitarists. In the book a number of the pieces are arranged and played with a 2nd guitarist.
The music is displayed on the stave, tab and chord symbols making the pieces accessible to a wider selection of guitarists. The pieces use various tunings such as; standard, Drop D and Open G.
The accompanying CD contains recordings of all of the pieces along with play-along versions."
For more info on this book, visit the "English Folk Tunes for Guitar" Shop Page.
Hugh Burns Masterclass Video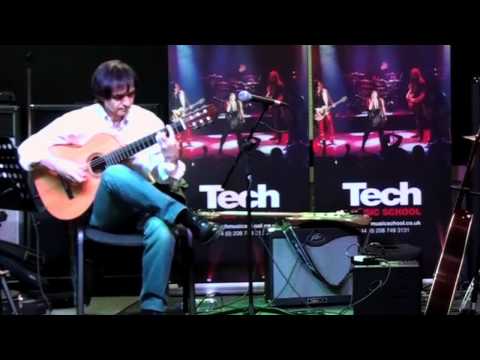 About Hugh Burns
Legendary session guitarist Hugh Burns has played on many hit records from George Michael, Gerry Rafferty, The Pet Shop Boys, Paul McCartney & Michael Jackson, as well as on a huge number of blockbuster film scores from the Return of the Pink Panther to James Bond movies.
Registration is now open for the 2013 RGT Guitar Tutors Conference, which will take place in London on September 8th. Registration is by advanced booking only, so make sure to visit the Registration Page and sign up today!
Do you have a question or comment about this seminar, or about the 2013 RGT Guitar Tutor Conference in general? Post your questions or comments below and we'll be happy to help you out any way we can.