As part of the 2013 RGT Conference, which takes place in London on September 8th, 2013, performer and guitar educator Max Milligan will be presenting a seminar titled "Acoustic Fingerstyle."
Max, one of Britain's finest fingerstyle guitarists, describes the seminar as such:
"In this session I will be featuring some of the techniques used by Chet Atkins and Jerry Reed with some musical examples at different levels to help students build their fingerstyle playing. Alternate picking, intros, turnarounds and open string licks will be demonstrated in the session."
Max's seminars are always one of the biggest highlights of any RGT Guitar Tutor Conference, and this year will be no different. So make sure to register for the conference, and head over to the Acoustic Fingerstyle seminar early to make sure you get a seat for this can't miss event.
Max Milligan Acoustic Performance Video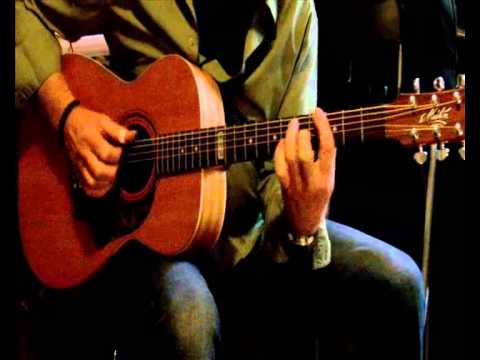 About Max Milligan
Max Milligan has been a gigging guitarist since 1973, in that time he has played many styles of music working in Cabaret Clubs, West End Musicals in London, Jazz Funk/Soul bands and Rock and Roll tours.
Max started teaching as a guitar tutor at the Institute of Contemporary Music Performance – then known as 'The Guitar Institute' – in 1991. He is also a popular clinician and has worked with Jerry Donahue (The Hellecasters), Big Jim Sullivan and Gordon Giltrap at the London College of Music.
Max is always busy composing incidental music for television companies and songwriting. He currently works with songwriter Jayne Taylor (Liberty X, Sugababes) & John Verity (ex Argent, Phoenix) He currently tours with acoustic Roots and Blues artist Cherry Lee Mewis.
Max holds the Licentiate of the London College of Music Teachers Diploma and is also one of the Registry of Guitar Tutors Senior Examiners.
You can find out more about Max by visiting the Max Milligan Facebook Page or the Max Milligan Homepage.

Registration is now open for the 2013 RGT Guitar Tutors Conference, which will take place in London on September 8th. Registration is by advanced booking only, so make sure to visit the Registration Page and sign up today!
Do you have a question or comment about this seminar, or about the 2013 RGT Guitar Tutor Conference in general? Post your questions or comments below and we'll be happy to help you out any way we can.